Employee Relations Software
What Office Holiday Party? HR at the Holidays
In the wake of recent years many companies find themselves canceling the annual office holiday party. For those who keep it, LaborSoft offers some suggestions
---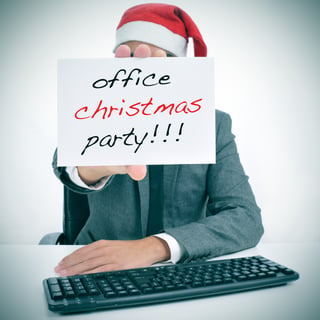 Remember those black-tie holiday parties where Joe Junior from Accounting chatted up the VP of Operations over cocktails and passed hors d'oeuvres? Though not too long ago, the office holiday party's transformation to a scaled down version of its former glory has been a long time coming – a telling tale of the changing times, the changing workforce, and the changing HR.
While no one is shedding a tear for the lack of heels and 3 piece suits mingling over the sounds of upbeat Christmas music and forced banter, this year's soirees are being toned down even more, if they are being held at all.
Some are calling it the Weinstein effect. While others are hiding their vigilance behind budget cuts to avoid appearing vulnerable. However, the explosive news stories of harassment out of Hollywood have had a trickle-down effect proving that no one is impervious to accusation and guilt. Businesses and HR are taking a much firmer stance against employee issues and the holiday party is coming under intense scrutiny and struggling for survival.
It's typical for employee complaints and HR issues have a noticeable uptick after a holiday party. Boozy benders and lack of good judgement tend to have that effect. And while never taken lightly, this year companies and HR Departments are taking preemptive action to avoid potentially undesirable outcomes. And, that may or may not mean canceling the holiday party.
A recent survey revealed that an increasing number of companies have opted to cancel their company parties in the wake of recent news events. And, those who are holding events are taking steps to mitigate risk of HR issues and employee complaints. Here are a few suggestions for toning down the holiday party, celebrating with coworkers, and ensuring the spirit of the season isn't overshadowed by the spirits of the season.
Limit the Liquor – Forgo the open bar. If you must have libations, consider drink tickets or a full cash bar.
Midweek Party – Believe it or not, today's workforce is more apt to want a lunchtime party or event held during the workday to enjoy time with peers and celebrate as a team rather than have it cut into their free time.
Invite Families – If you are holding a weekend event, make sure the invite includes spouses and children to make it a party the whole family can enjoy.
The holiday party should be a team/morale building event, and not an obligation. Companies should think twice about those mistletoe decorations and opt for free-flowing laughter and a re-envisioned event reflective of your team and your brand. Company culture plays an essential part in today's workplace, and the party should illustrate the personality and positivity of the company. It can be well received without all of the pomp and circumstance from the past, and provide a safe and enjoyable experience for all.
-------------------------------------------------------------------------------------------------------------------------------------
LaborSoft is the number one partner for innovative HR case management. Our configurable, cloud-based HR technology makes it easy for you to document and archive all supporting materials for issues and grievances. LaborSoft saves you time and money with online features and capabilities that streamline investigations and minimize risk.
Contact us for a customized demonstration and learn how LaborSoft can help you improve communications, build a more collaborative, safe, and supportive workplace, and reduce the likelihood of costly litigation.