Posted by

Judd Lowe ● Jul 21, 2020 2:00:00 PM
Times They Are a Changin'...Are Your HR Handbooks Up to Date?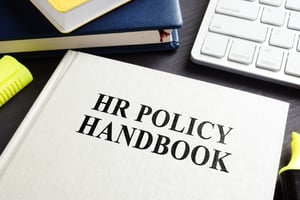 The current climate in this country and the world can make your head spin if you let it. So besides taking a HUGE deep breath, taking steps now to get your organization prepared and constantly keeping a Plan B in your back pocket will prove invaluable as we very tentatively venture out and brave this new world. While it already feels overwhelming to keep tabs on the various state, local, and municipal laws that change/get updated from year to year, it will now be an even more loftier task for HR managers to stay abreast of all of the accommodations and changes that will need to be implemented into company policies and incorporated into employee handbooks. So, if you do the legwork of researching the policy changes and regulations in your state and geographic region NOW, it will save you a lot of time LATER.
In fact, company policies will likely undergo a sea of change WHEN (or in the case of some companies, IF . . .) the workforce returns to the office, and the responsibility of informing employees of all of the changes will fall directly on management's and HR's shoulders. And the best way to handle the sudden deluge of employees returning is to have Employee Handbooks updated with new or revised policies and distributed and/or posted immediately. Therefore, it will behoove HR managers to adapt and update their policies as soon as the information is released so that handbooks are ready to go AS SOON AS states relax mandated quarantine orders and allow non-essential employees to return to the office.
Recommendations Already Released
Luckily, the CDC has already provided recommendations and OSHA has released guidelines to adhere to on reducing transmission and limiting exposure when allowing non-essential workers to return to the workplace. Signs should be posted in visible areas to remind employees of the following:
Relentless encouragement of good hygiene practices and frequent handwashing for a duration of 20 seconds each time.
Frequent reminders of

the importance of social distancing

in a shared workspace area, i.e. six feet apart from one another when possible, and when spending time in common areas where groups can gather, such as bathrooms, kitchens, elevator banks, lobbies, etc.
Daily sanitization of high-exposure objects (phones, keyboards, copiers, doorknobs, mailboxes, elevator buttons, etc.) and areas with a high risk of cross-contamination like kitchen areas, coffee makers, water coolers, etc.
Hypervigilance when it pertains to coworkers who feel ill or may appear to be sick; identifying these is of the utmost importance so that it lowers the risk of infection for other workers. While managers should encourage any potential employees with symptoms to go home and/or get tested, it is important to remember that confidentiality still supersedes everything, so these instances should be treated in a sensitive manner and test results should only be shared with HR. All of this will ensure that proper precautions can be taken and recommendations made in terms of the employee returning to the office or taking extended sick time or a leave of absence, or, in some cases selectively allowing employees to utilize disability benefits until the employee is ready to return to the office safely (as guaranteed under

FMLA guidelines

).
Availability of alternative workspace configurations in the office, or continuation of remote work for those who have

COVID-19

themselves or live with someone who has, such as Dr. Nick van Terheyden, founder and CEO of Incremental Healthcare in Maryland, points out, "HR should help their staff understand that the employer is aware of this elevated risk and supports the employee in taking additional precautions to help limit their chances of being infected and acquiring the disease."
Overall, discretion in these cases is of the utmost importance, as Elaine Farndale, acting director of the School of Labor and Employment Relations at Pennsylvania State University, suggests: "Importantly, it should be made clear to all employees that this is a nonjudgmental situation. If someone needs changes to their work setup or location, this should be respected. Providing reassurance that all is being done that can be done, this week and next, when we don't know how long this situation might continue, is, in my opinion, one of the best ways to manage the uncertainty."
Reinforce Remote Requirements
At the same time when apprising employees of the new rules and regulations surrounding COVID-19, it is equally important to remind employees of policies your company has in place to regulate work practices, such as remote working requirements. Don't forget that remote employees will not receive all of the information and messages that in-office employees receive, including the reminders that you will be posting around the office about health and safety upon returning. While not all of them will apply (such as washing hands, sanitizing workstations, or social distancing), remote employees still need to be "in the know" if there are major changes to workplace policies. For example, they still need to receive updates on electronic usage policies and sign off on them, as well as be made aware of analytics and tracking practices in place to monitor their sustained work time, performance, and availability during work hours. "Out of the office" shouldn't translate to OUT of reach and those employees should remain IN the minds of management and HR personnel.
-------------------------------------------------------------------
LaborSoft's innovative technology is one of many integral solutions that keep your business, in business. Our analytics, case management workflows, and our central repository of documentation streamlines case management to mitigate risk of operational bottlenecks, costly lawsuits, and legal ramifications stemming from HR issues and complaints. This sensitive data requires that maximum security protocols are in place and that your information is protected at all times.
Contact us for a customized demonstration and learn how LaborSoft can help you improve communications, build a more collaborative, safe, and supportive workplace, while reducing the likelihood of costly litigation.
Topics: Labor Relations, Human Resources