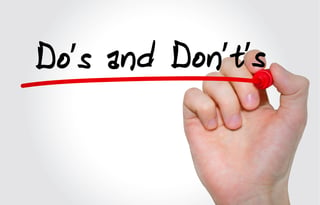 Employee discipline processes vary from business to business – and in some cases, from manager to manager. While there may be state and federal regulations in place, as well as recommendations for mitigating the risk of legal woes, there are several do's and don'ts that companies should consider commonplace.
Do Establish Clear Rules Upon hiring, ensure that employees understand corporate compliance as it pertains to the individual companies. This could range from punctuality to dress codes, and encompass state and federal laws addressing codes of conduct and harassment policies. Employee Bill of Rights and DOL awareness posters should be displayed in common areas and accessible to all.
Don't Assume Employees Know the Rules One of the biggest mistakes companies make is running under the assumption that employees fully understand their roles, responsibilities, and organizational processes. An employee handbook is key to maintaining compliance and managing liability. Every employee should have a signed document on file that they have read, understand, and accept the policies outlined in the handbook. Any addendums require additional sign-offs to mitigate risk.
Do Hold Managers Accountable You hire them for a reason - to oversee the productivity and performance of divisional teams. Therefore, department heads and managers should be held accountable for performance evaluations and delivering on a consistent set of discipline measures.
Don't Fall Victim to Individual Management Styles It's all too common for companies to be siloed in the facilitation of employee discipline policies. They credit this to "individual management styles," in which a department head is given leeway to oversee the reprimanding and retraining of their staff. And, while managers do need the latitude to supervise and support the direction of their team, to avoid legal implications, a strict set of discipline processes should be in place companywide, typically imposed by the HR department, to ensure compliance.
Do Maintain a Consistent Professional Report A successful working relationship will be defined by the individual environment and company culture. However, from the casual office to the suit and tie suite, supervisors need to be cognitive of the way that they treat all employees no matter their station, friendly relationship, or bias.

Don't Show Favoritism This can be a challenge for managers who are also friends with employees outside of the office, or for those who convey constant praise for high performing employees. This can also be a problem when tenured employees are treated differently than new team members. The point is, you don't want your behaviors to be misconstrued as harassment and retaliation, or result in a potential unlawful termination lawsuit because an employee feels slighted that you didn't like them or give them a chance.
Do Document Ever Infraction Write it down! Performance reviews, reprimands, disciplinary action, and all complaints should be documented and saved in an employee's personnel file. This is the ONLY way you can cover yourself if an issue arises. The last thing you need is to have to defend a grievance with hearsay. Documentation can mean the difference between supporting an argument and settling out of court.
Don't Assume It's Over The biggest blunder a company can make in regards to HR grievances is "resolving" an issue verbally with disregard for the fact that it can come back and haunt you. This is why proper documentation is necessary, and following a set standard of employee discipline procedures is so important during the process. There's always a variable of uncertainty that a complaint could be rehashed and used against you at a later date. Any time you are faced with a HR grievance, you run the risk of litigation. If you keep that top of mind, and implement procedures to avoid such instances, you'll reduce the risk of legal implications.
------------------------------------------------------------------------------------------------------------------------------------------LaborSoft is the number one partner for innovative HR case management. Our configurable, cloud-based technology makes it easy for you to document and archive all supporting materials for issues and grievances. LaborSoft saves you time and money with online features and capabilities that streamline investigations and minimize risk.
Contact us for a customized demonstration and learn how LaborSoft can help you improve communications, build a more collaborative, safe, and supportive workplace, and reduce the likelihood of costly litigation.