Posted by

Judd Lowe ● Mar 25, 2021 9:11:00 AM
Building a More Inclusive Workplace in 2021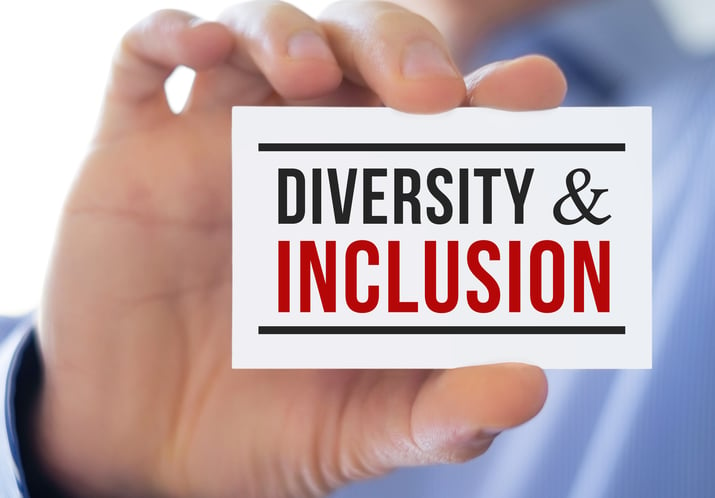 March is Women's History Month, and there is no better time to talk about equality, diversity, and inclusivity in the workplace. The formidable push for diversity has been long overdue in the business world, especially after so many public lawsuits and coverage of discriminatory practices within the mass media over the last few years.
As a successful and relevant company in 2021, your hiring practices need to be embracing of different races/ethnicities, gender, age, religion, sexual orientation, and even abilities, knowledge bases, and skill sets. In fact, corporate committees and consortiums now exist to educate HR managers and C-level executives of the importance of robust diversity and inclusion policies when it comes to recruiting and attracting top talent. These types of all-encompassing programs have become requisite in industry and have even been renamed as Equity, Diversity & Inclusion (ED&I) initiatives.
One needs to look no further than their LinkedIn feed to see a host of posts surrounding the importance of equity, diversity and inclusion in the workplace, especially during February and March—noteworthy months when traditionally underrepresented populations are expressly recognized and celebrated. However, despite the fact that women now make up half of the workforce, overt disparities still exist, including the ever-present pay gap and an imbalanced representation of women in executive or leadership roles. While inclusion does not mean that your company must have a 50/50 gender ratio, it does mean that there should be an attempt at more of a balance, and that hiring/promoting should be based on equal opportunity practices and merit, not just to meet quotas or demographics designated by the HR department.

Break the Mold by Becoming a Trendsetter
In the digital age when we all strive to "follow" the right social influencers, the companies who are cutting-edge in their policies and missions tend to the be the ones that break the mold and stand out. But being shocking is not the best way for corporations to get attention like it is for social media stars; we know that when it comes to business, substance still supersedes style. So while having great ads and a robust e-commerce site may be the way to generate awareness about your brand and sell gobs of your product, implementing the right types of recruitment practices are the way to attract and retain the best and most diverse talent pool. But identifying and onboarding talent is only the beginning—it's what you do to keep your workforce happy and satisfied is what keeps them there.
There have been new concerted efforts to address individual employee concerns, boost morale, and ensure job satisfaction; and one of these is a clear commitment to diversify the workforce and make employees feel heard, accommodated, and included. One such local effort is Massachusetts Biotechnology Council, or MassBio, and its initiative to increase equity, diversity and inclusion. What sets this consortium apart is that it offers other companies support and implementation advice when creating culturally rich and gender-inclusive workforces. To take this commitment a step further, MassBio has drafted a pledge for CEOs to sign called 'Open Letter 2.0: The CEO Pledge for a More Equitable and Inclusive Life Sciences Industry'. As Edie Stringfellow, Senior Director of Equity, Diversity, and Inclusion explains: "The life sciences industry can only succeed if the workforce represents the patient populations we serve – disease knows no boundaries and neither can our talent pipeline. To get there, we need lasting, meaningful change that comes from the top-down. That is why MassBio issued an industry-wide call to action for CEOs to pledge their name to a set of best practices to improve ED&I within their organization. Whether your company is multinational or pre-clinical, it is time to take action to address the discrimination and racial inequity that exists within the life sciences and plagues our nation."
While it is inspiring for your company to pledge to this type of company-wide commitment, it is not the only way to incorporate equity-, diversity-, and inclusion-minded policies and practices. You can start small and grow from there. For example, merely examining and revising recruiting/hiring and employment practices is a good place to start. First consider assessing your current hiring practices and habits, such as the following:
1) Do your company's job descriptions use gendered language, such as terms that have "man" as the root word?
2) When you inquire about a potential candidate's salary requirements or history, is there an implicit disparity for women's or a candidate of color's compensation?
3) Consider the physical space that your employees will be working in—are there any gender-neutral spaces, such as unisex bathrooms which transgender or non-binary employees can use, and any rooms available for lactating or nursing mothers?
Lastly, the important thing to remember is that creating and incorporating ED&I should not be the result of a bandwagon mentality or due to succumbing to industry pressure. Your company's policies and practices need to be thoughtful, deliberate, and universally bought into. Because if making a commitment to the tenets of equity, diversity and inclusion is upheld, it is one that will pay in dividends, and not the fiscal type.
-----------------------------------------------------------------LaborSoft's innovative technology is one of many integral solutions that keep your business, in business. Our employee relations analytics, case management workflows, and our central repository of documentation streamlines case management to mitigate risk of operational bottlenecks, costly lawsuits, and legal ramifications stemming from HR issues and complaints. This sensitive data requires that maximum security protocols are in place and that your information is protected at all times.
Build a more collaborative, safe, and supportive workplace, while reducing the likelihood of costly litigation. Contact LaborSoft for a customized demo.
Topics: Workforce