5 Business Trends that Will Influence the Workforce in 2021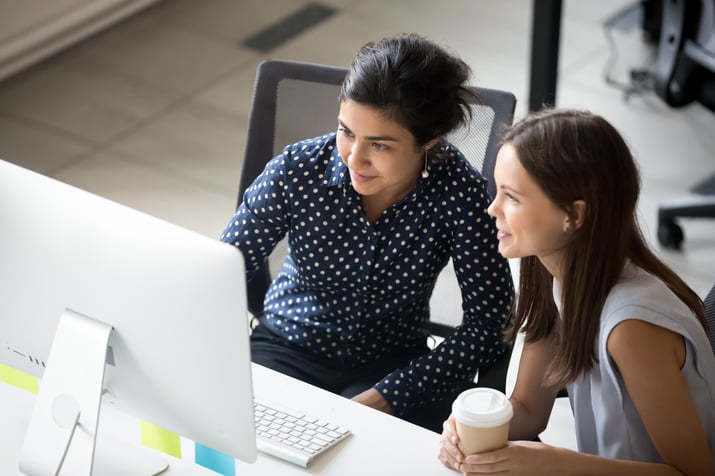 There are many new buzzwords and terms that came out of 2020 — from pandemic to hybrid/distance learning to pivoting, there is almost an entirely new lexicon and way of doing business than before. Many would agree that the events of the last year have spawned a breadth of examples of flexibility and a newfound appreciation for unpredictability. While 2021 has brought a semblance of assurance of some normalcy with the vaccine rollout, there are still many variables and question marks that remain. So, what are some of the trends that will mold and influence the workforce as we navigate the [hopefully] post-pandemic uncharted waters that is 2021?
1) Focus on the Personal, Not Just the Profits
Companies have had to shift their focus away from merely profitability. If the pandemic has proven anything, it has been that as humans we are fragile, and as human resource professionals we have to take the human condition into consideration a lot more. We have also had to give employees room to make accommodations due to their inability to commute to a physical office space, work the same daytime hours as they did pre-pandemic, or exercise their right to use FMLA benefits to care for family members who had contracted COVID-19. While profitability was just as important to C-suite executives in 2020, a level of compassion had to be extended to employees as priorities shifted solely from profits and loss to include health and wellness.
In fact, Gartner's 2020 ReimagineHR Employee Survey of 5,000 employees showed that the standard 40-hour work week at the office yielded 36% high-performing employees, while during the pandemic (when most employers allowed flexible remote accommodations), 55% of employees were considered high performers. This was reflected in Brian Kropp's, Chief of Research in Gartner's HR division, observation: "Employers are focused on providing employees more flexibility than ever before, creating a shared purpose and building deeper connections with employees. . .Offering employees more choices over when, where and how many hours they work, is not only better for employees, but also better for employers who end up with more high performing employees as a result."
2) Location, Location, Location. . .NOT!
Realtors have always espoused the merits of this mantra — but when it came to the pandemic workplace of 2020, location became a LOT less of a factor. In this case, output outweighed occupation of an office. When the United States went into lockdown by mid-March, companies shut down completely as the spread superseded everything and this remained to be the case for the duration of the year. In fact, there are still larger companies, such as Google and Amazon (corporate), that have permanently closed their offices through the end of 2021. And, companies from Facebook and Twitter to Slack have already announced that their employees can work from home for good from this point forward—possibly spawning a new term of "forever flexibility".
If you lost your job during the pandemic, you would've witnessed this phenomenon firsthand when you applied to jobs online that touted flexible work-from-home schedules as not only an option, but a prerequisite. This, in turn, has revolutionized the job seeking landscape—where workers considered location as a primary criterion before, now it became a non-issue. States also moved away from luring companies to move into or relocate so they could enjoy tax credits, and instead embraced independent employees and contractors to work for them instead. Additionally, it became a customary practice to offer signing bonuses to employees in industries that hadn't done that routinely, such as Amazon drivers and shippers. There are also new programs sprouting in the Midwest, such as Topeka, Kansas and Tulsa, Oklahoma, offering remote employees up to $15,000 incentives to work for them. Flexible job seeking websites, such as FlexJobs, thrived inextricably in this market due to the pandemic.
3) Migration to Mental Health
As companies moved away from commutes to/from jobs and travel for jobs, they moved toward the proliferation of robust mental health programs and support services. While behavioral health visits were usually covered before (at least a percentage of them) by medical insurance, companies began to diversify mental health offerings from Employee Assistance Programs and 24/7 nurse hotlines to paying for self-care and mental health monitoring apps. It is not a surprise that employees needed more sick bank time or PTO for "mental health days" during the pandemic and it seemed that companies were willing to go the extra mile when providing support or space for employees to take when they needed it.
It also helped that many apps offered free subscriptions for people during the pandemic, such as Headspace, a calming mediation and sleep app for unemployed workers. From extending FMLA benefits to subsidizing benefit provider offerings, companies seemed to make a concerted effort to listen to and care for an increasingly susceptible workforce (both physiologically and psychologically). This, in turn, reinforced the need for more extensive mental health support and coverage since it became such a commonplace topic in the pandemic era. In fact, Gartner's survey pointed to 68% of organizations having introduced at least one new wellness benefit to aid employees by late March 2020.
4) Having a Societal "Say"
It would be an understatement to say that the "business as usual" attitude of most companies and industries was altered drastically this past year. As much as employers may not have wanted to hear this message, employees started realizing that work and our jobs is not the be-all and end-all. As we all start to reflect on the last year of our lives in 2021, it will be acknowledged that family, health and well-being took a collective front seat ahead of really everything else. Whether this was initially forced and then organically accepted may be difficult to pinpoint, however the impact is resoundingly clear—how your company treats its employees is nearly as important as how it performs.
The same can be said about policies and rules and how they have been shaped over the last few years. As an HR professional, you know better than anyone how much the events within the courts, popular culture and the media affect the policies that your company sets. Everything from drugs in the workplace to harassment and discrimination of diverse populations to the recent #metoo movement have contributed to a new viewpoint when it comes to crafting company rules and evolving practices. So, it can be said that your company's stance on important topics and inherent policies can have a substantive effect on how your company is viewed in the public eye.
5) Vaccine Voracity
This one is tough to call because it still remains to be determined, however employers will likely take a role in the dispersement and possibly even administration of the COVID vaccine (obviously depending on the industry or space that your company occupies). There are finite state guidelines that delineate when the vaccine will be given to each specific population by medical condition and age, however there will be a crossroads that companies are likely to cross when it comes to deciding policies surrounding proof of vaccine and the ability to return to work. First and foremost, as with most federal laws and/or dictums, companies will have to follow the guidelines laid out for them; for example, for many companies to open back up in the near future, there will be fairly stringent regulations. However, after that it will likely be up to each company individually to determine and lay out the policies that their employees will have to follow.
Whatever your company decides or however it determines the timeframe to follow, make sure that you do so in an informed way and consider the needs of your employees first. As HR professionals, you know one of the last things you want is bad publicity or possible lawsuits if your employees feel that you are "forcing" them to return prematurely or are not looking out for their safety and best interests in the workplace. All of this points to the fact that if you, your family and your business or job came out unscathed in 2020, that you are one step ahead on the road to personal and professional recovery.
LaborSoft's innovative technology is one of many integral solutions that keep your business, in business. Our employee relations analytics, case management workflows, and our central repository of documentation streamlines case management to mitigate risk of operational bottlenecks, costly lawsuits, and legal ramifications stemming from HR issues and employee complaints. This sensitive data requires that maximum security protocols are in place and that your information is protected at all times.
-----------------------------------------------------------------Contact us for a customized demonstration and learn how LaborSoft can help you improve communications, build a more collaborative, safe, and supportive workplace, while reducing the likelihood of costly litigation.
Topics: HR and Coronavirus, Workforce