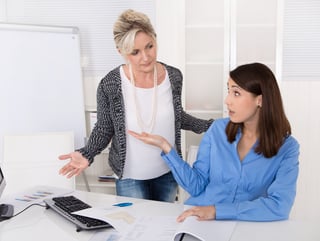 HR ISSUES: Workplace Bullying
Bullying has graduated from the schoolyard to the workplace, where aggressive behavior has managed to infiltrate the payroll roster. While Hollywood continues to publicly denounce members of its enclave that toss decency and propriety to the wind, workplace bullying isn't limited to
sexual harassment
. In fact, its broad definition has led to a study revealing an estimated 50+ million Americans have experienced some form of workplace bullying during their career.
What is Workplace Bullying?
Not unlike childhood bullies, these adult protagonists thrive off the need to control individuals they've targeted. From verbal abuse to manipulation and sabotage, workplace bullying can take innumerable forms that result in the interference of daily operations, and cause mental, and sometimes physical, harm to the targeted employee(s).
An employee may be singled out by another, or targeted by a group of colleagues and forced to endure inappropriate or threatening behavior, or may become the subject of humiliation and intimidation as acts of bullying. This causes emotional stress that can inhibit daily life, and from a professional standpoint, hinder performance and irreparably damage collaborative workforces.
What Should HR Do?
It goes without saying that mistreatment of any kind should not be tolerated or overlooked by HR and management. If an employee lodges a complaint, or it's brought to your attention that an employee may be suffering abusive behavior by another employee, immediate action should be taken. It's the responsibility of Human Resources, or an acting manager assuming the HR role, to follow up on the issue and fully understand how the individual is being attacked and victimized. Any information, statements or interview with parties involved in the complaint should be documented and saved for review.
HR should have an employee complaint form available for issues and grievances that arise in the workplace. You should have a checklist for handling these procedures, and a standardized practice of interviewing employees during an investigation. This will not only streamline the process, but mitigate risk of legal implications should an employee-related issue not be handled correctly and end up in arbitration or in court.
LaborSoft is the number one technology partner for HR issues and grievance management. We support companies by providing the resources to better manage employee related complaints, and the analytics to help prevent workplace issues before they arise.
Our configurable, cloud-based technology helps you document and archive supporting materials for HR disputes including sexual harassment and bullying claims. LaborSoft saves you time and money with online features and capabilities that streamline investigations and minimize risk.
Contact us for a customized demonstration and learn how LaborSoft can help you improve communications, build a more collaborative, safe, and supportive workplace, and reduce the likelihood of costly litigation.