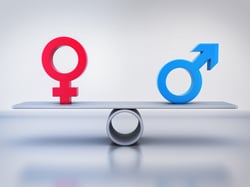 Gender Pay Inequality Lawsuits Proving Expensive for Companies
Recent headlines out of Hollywood have shed light on an ongoing struggle in the workplace. When it was made known that Michelle Williams was paid less than 1% of her costar, Mark Wahlberg's, whopping $1.5 million salary for the reshoot of scenes, outcry from industry peers and the general public put employers under a microscope for double-standard practices and gender pay inequality.
While certainly not a new problem, aiming to close the gender pay gap that plagues workplace practices is now top of mind. And, one that can help companies avoid cost prohibitive litigation and settlements. In 2017, former Google employees filed a class action suit against the tech giant for gender bias, citing lesser pay and slow growth opportunities for women to get promoted from within.
Compensation Discrimination
Pay inequality isn't limited to Hollywood or the Silicon Valley. Nor is it just a gender issue. Studies have found that the pay gap widens for diversity and disability employees despite the Department of Labor's (DOL) rulings that make such practices unlawful. The Equal Pay Act (EPA) of 1963 made it illegal to pay someone less for the same work based on their gender, and the Equal Employment Opportunity Commission (EEOC) clearly prohibits compensation discrimination based on race, color, religion, sex, national origin, age, or disability.
Companies facing discrimination lawsuits from employees who have clearly established gender pay inequality through compensation and benefits discrimination should fear more than pricey settlements. A damaged reputation and subsequent PR expenses can add to already exorbitant fees, and lead to years of rebuilding trust.
Business Intelligence to Avoid Pay Disputes
LaborSoft, innovative HR case management and labor relations technology, offers intelligent reporting and issue tracking to mitigate the risk of compensation bias going to arbitration. With complete transparency into employee disputes, including monitoring formal complaints relating to pay discrepancies and growth opportunities, your HR and management team can address these concerns before legal action is taken.
Using intuitive programming, LaborSoft can alert administrators to repetitive issues and frequent complaints to help direct corporate policy and correct any injustices in the workplace. LaborSoft saves companies thousands of dollars in unanticipated fees relating to employee disputes and lawsuits each year. We help you expedite the case management process and provide the data and analytics needed to oversee your workforce and identify at-risk areas.
-------------------------------------------------------------------------------------------------------------------------------------
LaborSoft is the number one partner for innovative HR case management. Our configurable, cloud-based HR technology makes it easy for you to document and archive all supporting materials for issues and grievances. LaborSoft saves you time and money with online features and capabilities that streamline investigations and minimize risk.
Contact us for a customized demonstration and learn how LaborSoft can help you improve communications, build a more collaborative, safe, and supportive workplace, and reduce the likelihood of costly litigation.