#EmployeeRelations – How Social Media Use Can Impact HR Issues and Employee Grievances
Social media and networking sites have become ingrained in mainstream society. You can't turn around without seeing someone glued to their phone, laptop, or tablet. But what happens when you turn around and see employee productivity at risk due to our now innate online attachment?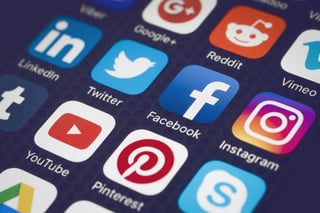 In 2010, The National Labor Relations Board (NLRB) became the first federal agency to decide how employees' social media use fits in existing labor and employment laws. They made headlines when they prosecuted an employee for posting comments critical of her supervisor on a personal social media page, claiming violation of company internet policies. And so, it began. Social media found its way into documented disruption of business and started playing a major role in labor relations disputes and HR grievances.
Internet Policy Usage for Employees
Eight plus years later, here we are. Onboarding new employees is never complete for HR without reading and acknowledging an Internet Policy / Usage guide. Subject to change at the speed of online innovation, it's not uncommon for amended usage policies to make the rounds as legal precedent continues to be set.
As an employer you need to protect yourself. One wrong move and a snarky hashtag later, the power of viral media will taint your business' name throughout the world wide web in minutes. Even when employee productivity is reliant on the internet, HR departments must spell out what employees can and cannot post online; websites that are strictly prohibited using company technology and during business hours; and the consequences of violating company policy.
Avoiding Wrongful Termination Lawsuits
Larger companies and staff technologists may be instructed to block sites and only provide access through their own network to what the company deems acceptable or areas of the web necessary for business. Whether or not you employ such capabilities, outlining policies related to Internet use is a must for human resources. From appropriate behavior using company hardware to online usage on personal devices during business hours, your corporate handbook should include a technology section.
As with the case of the 2010 lawsuit, HR departments must detail policies related to personal social media and website postings when referencing the company name or colleagues and their titles. For businesses and agencies in which employees represent the brand online or a client's brand, this too needs to be addressed. A defamation of character lawsuit can be brought against an employee for improper use of a brand when blogging, social posting, or updating any company entity online.
In addition to discussing Internet policies, it should be made clear to employees that your company has every right to monitor technology use - from online surfing to company email. Should you need warn, discipline, or even terminate an employee for violation of Internet policies, knowing that you, as a company, have the right to investigate usage would make it difficult for an employee to claim an injustice or invasion of privacy.
As technology, connectivity, and social exchange continues to evolve, so too will internet usage and online practices in the workplace. Avoiding negative impact on operations requires companies to be vigilant and adapt the appropriate policies. Tracking workplace incidents and monitoring employee technology infractions will also help to mitigate risk of HR issues and time-consuming investigations.
LaborSoft is the leading partner for HR Case Management technology. Our innovative system provides the capabilities, intelligence, and flexibility companies need to oversee today's employee and labor relations issues.
Through an engaging, user-friendly interface with point-and-click features, we make it easy to store, search, and archive case-related information. LaborSoft's documentation, tracking, and reporting ensures HR grievances are facilitated quickly and accurately to save your company time and money managing HR investigations.
------------------------------------------------------------------------------------------------------------------------------------------ Contact us for a customized demonstration and learn how LaborSoft can help you improve communications, build a more collaborative, safe, and supportive workplace, and reduce the likelihood of costly litigation.